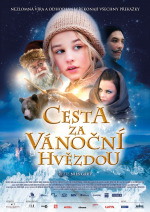 Journey to the Christmas Star
2012
·

Adventure / Family / Fantasy
· Norway
Edisonline
Trying to escape from a gang of thieves, 14-year old Sonja is hiding in the king's castle where she overhears the king telling a sad story: After his daughter, little Princess Goldenhair, had disappeared in the dark forest on her search for the Christmas Star, the king, overwhelmed with grief, cursed the object of her disastrous search. Only if he finds the Christmas star, which was extinguished by his curse, within the few remaining days before next Christmas, Goldenhair will return to the castle – if not, she will be lost forever.
Sonja is determined to help the king and find the Christmas Star for him. However, the evil witch and the treacherous count have also set out on a mission – to thwart Sonja's plan and get rid of the heiress to the throne forever!

On her adventurous journey, Sonja finds a variety of magical helpers. The forest elves show her the way to find the Christmas Star: all the way to the North Pole! Riding on the back of a big brown bear and soaring through the air on the North Wind are required to get there. How could a delicate girl like Sonja manage a trip so dangerous?

But Sonja is much braver and stronger than she seems. Always followed by the vicious count who even tries flying on a broomstick, she makes her way through the stunning, snow-clad mountain scenery and proves capable of taming the huge wild bear, climbing over dizzying mountain ridges and jumping into a chasm. Having arrived at Father Christmas' workshop in the magical ice dome, she is let in on the secrets of how Christmas wishes come true – and can finally make a wish to find the Christmas Star! However, the quest is not over yet: Just when she finds what she was looking for, her mighty foes capture her. How can she reveal the truth about the Christmas Star – and find out the truth about herself?